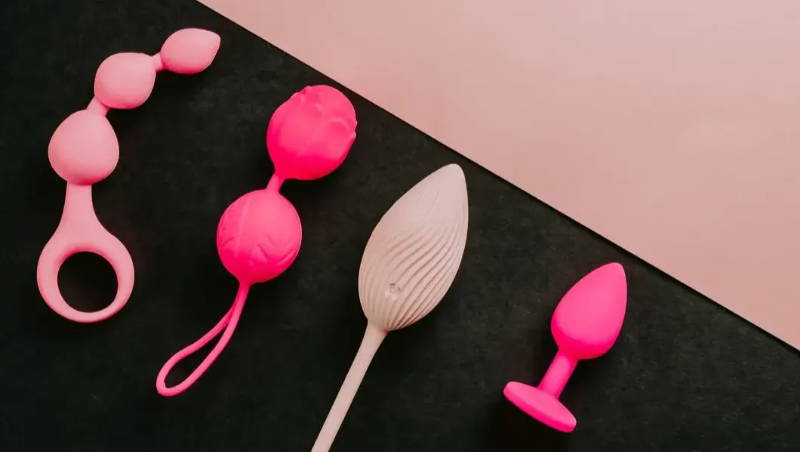 Your adult toy is always ready to bring a smile to your face and asks for so very little in return. Here's a few ways to keep it happy and running smoothly.
Sex toy care – looking after your sex toys
When it comes to caring for your sex toys, there's more than just cleaning to consider. You'll need to know about materials, storage, and how to prevent the high-quality silicone from getting covered in fluff if you leave it out in the open for too long. But don't panic, we've got this handy guide which will take you through the important aspects of sex toy care, with a few simple steps to make sure you get the most out of your brand new sex toy.
Sex toy materials
First thing's first: how you clean and care for your sex toy will depend on the type of material it's made of. For the purpose of this guide, we're going to talk mostly about insertable toys which go in or near your genitals, and for those kinds of toys materials like glass, metal and silicone tend to be the easiest to keep clean.
Cyberskin, jelly and other soft, porous materials require more rigour and are less long-lasting. They're also not suitable for sharing around, so if you're not fluid-bonded with someone (a fancy way of saying 'you don't use condoms or similar kinds of protection when you are intimate with them) you shouldn't use these sex toys on them either. It's possible to cover porous sex toys with a condom if you like, but the jury's out on whether this is effective – especially if the condom breaks. So to be on the safe side we recommend you only share clean toys made from non-porous materials.
Check out our sex toy materials guide if you need to work out what your toys are made from (hey, no one's judging you for throwing out the box and instructions – we all get excited when there's a new adult toy to play with!) and then follow the steps below on cleaning. Within five minutes you'll be armed with all the info you need to keep your sex toys fresh and usable for as long as possible.
Which lube to use with your sex toys
There are three basic types of lubricant, as well as some hybrid lubes which combine the qualities of each of the three.
Water-based lube is your classic all-rounder: safe to use with condoms and sex toys, slippery and easy to wash off. Aquaglide (the clue's in the name!) is a good example of a simple, water-based lube but there are plenty of different types available.
Water-based lube is easy to clean off (whether from toys or skin) but it may need to be reapplied more frequently than silicone-based lube. Speaking of which…
Silicone lube tends to have a 'silkier' feel, and doesn't need to be reapplied as frequently. If you're having fun in the bath, shower or swimming pool of a swingers' resort, silicone lube like this Sliquid Silver is a great choice as it doesn't tend to wash away in water.
However, silicone lube can degrade silicone sex toys if you use the two together, so focus on water-based if you want to keep your silicone toys in mint condition. It's absolutely fine to use on glass and metal, though, so feel free to slather on the silicone if you're playing with a metal butt plug or similar delight.
Oil-based lube can degrade latex as well as silicone, so it's a big no-no when you're using condoms. However many people enjoy the very slick feeling that oil-based lube can provide, especially for anal – as this 'Boy Butter' anal lube demonstrates. So if you're not using condoms or soft sex toys (we're talking silicone, jelly, Cyberskin, rubber, plastic – anything that squishes when you squeeze it), oil-based might work for you. What's more, as long as you keep it away from materials it degrades, oil-based lube is brilliant for massages: who doesn't enjoy an erotic massage every now and again?
Hybrid lubes – as you can probably guess – combine different properties. The excellently-named Spunk lube is a silicone-based lube that is as easy to clean as most water-based lubes. We'd recommend that you buy a couple of different lubricants for different purposes, but if your budget is limited then a decent hybrid could do everything you need.
How to clean your sex toys
Assuming you've used the right lube, and you know what material your sex toys are made from, now it's time to explore how to clean them.
There are many different sex toy cleaners on the market, and broadly any sex toy cleaner should work on most toys. They're usually antibacterial sprays or detergents that are thorough enough to kill germs, while being gentle enough to work on the sex toys you put in delicate places. If you don't have a good cleaner – like this simple antibacterial toy cleaner – then a basic antibacterial soap and warm water should do the trick.
If your toy contains no batteries (for instance, a dildo, butt plug, or any sex toy that has no moving parts inside) then you should be able to completely submerge it in water. Likewise, some of the higher-tech vibrating toys often come with waterproof protection (for shower and bath use as well as ease of washing). If you're cleaning one of these, it's safe to submerge it in a bowl of warm water and wash thoroughly with antibacterial cleaner, making sure you get into all the nooks, crannies and textures of the toy. If you're struggling to clean a tricky ridge, using a toothbrush often helps. We probably don't need to state this explicitly, but better safe than sorry: make sure it's a different toothbrush to the one you use on your teeth.
With glass, metal, or pure silicone sex toys, you can also clean them using a mild bleach or immersing them in boiling water (to kill germs). Although some people advise you can put toys like this in the dishwasher too, in practice we don't recommend it: your normal dishwasher detergent is not designed to be gentle on your genitals, and selecting the right machine cycle is a nightmare. The methods mentioned here are far easier!
If your sex toy isn't fully waterproof, cleaning will be slightly trickier, though in practice it's just a matter of ensuring that no water accidentally gets into the charging port of the toy. You may want to hold parts of the toy under a running tap, or using a wet cloth carefully around the more delicate parts of it.
It's worth having a special section on masturbation sheaths, because they're notorious for being some of the trickiest sex toys to clean. Sex toys like Fleshlights, which consist of a tight 'sleeve' of soft material, will need to be turned inside out before you wash them. Pull the internal sleeve out of any external holder (usually made of hard plastic) and then wash the sleeve, as above, in warm water with toy cleaner or antibacterial soap. When you've finished washing, it's important to leave the toy inside-out to dry – that will prevent any dampness from lingering at the bottom of the sleeve when you put the toy away. Renewing powder can be used once the sleeve is dry if you want to restore it to its original texture.
Sex toy storage
Once you've cleaned your sex toys to a perfect shine, you're ready to stash them back in your bedside table, or chest of drawers, or the pirate's chest marked 'KIDS: keep out!' that you lock away in your garage. Storing your sex toys well is as important as cleaning them properly: the better you store them the easier they'll be to use next time and the longer they will last.
Make sure to unplug any rechargeable toys when they're fully charged, and if your toy came with a special storage bag, pop the toy and charge in that so they're easy to find and match when you next come to use them. Try to store porous materials like Cyberskin and jelly away from each other, because they will degrade more swiftly if you keep them next to each other.
And when it comes to lube, make sure to store it right way up rather than on it's side once opened: you don't want to reach into your bedside drawer for a condom only to find your fingertips wet from a puddle of lube that's dripped out of a wayward spout.
"I got a bag full of toys / And I don't need none of your boys / So you can hit every chick on the block / 'Cause I'm gon' be alright / Once I turn this power on, you dig?"
- Missy Elliot "Toyz"