Ah, the three eternal questions: Is there a God? Is there life after death? And most importantly, does size really matter? In short, YES, but when it comes to penis size it's really all about perception. In short: one person's idea of a huge penis is another person's average dick. However, there are plenty of people who crave a larger-than-life cock, and by "people" we mean "you." (That's why you're here.) That said, what's wrong with liking big dicks?
Even though a love of larger members is associated with Porn stars and dare-we-say it… sluts, there is nothing wrong with being a size queen. Just as some people prefer huge breasts, there are others that simply prefer the look and feel of a very well-hung penis. And, if you're a proud lover of the BDE, you've come to the right place. From monster cocks to double-ended dongs, these TOP 7 HUGE DILDOS have got you nailed.
GET LUCKY MEGA DILDO
"Go Luck Yourself."
Have you got the buns for 12 inches, Hun? With a sliding-skin exterior that feels inviting as fresh-baked bread, Subway's got nothin' on this footlong dong. And, unlike most monster dildos that are made from materials that should be in a Camp Lejeune settlement, this hole-wrecker is made from phthalate-free silicone…because you CARE about your body.
Size: Overall Length – 12 Inches, Insertable Length: 9 inches, Width: 2.3 Inches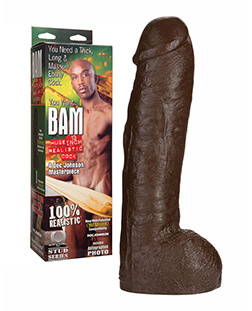 BAM Realistic Dildo
"The Cuckold's Burden."
Catering to the "Once You Go Black" stereotype, the BAM Dildo has been making cheeks clap for decades. It's a baseball bat-sized reminder of a time when interracial porn was still hidden in the kink section of the adult video store. (Racial fetishization, anyone?) 20 years later, this poster-child for BBC is still one of the biggest Bulls in the yard.
Size: Overall Length – 13.5 Inches, Insertable Length: 9.6 inches, Width: 3 Inches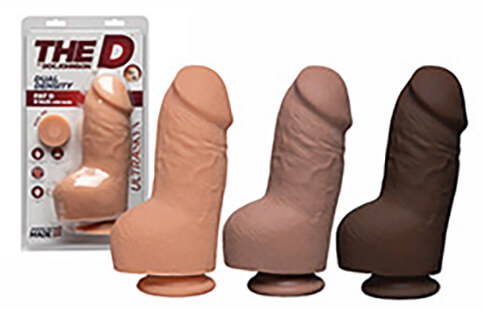 Dual Density Fat D
"It's Chonk, It's fine, Got girth, A mile wide."
Offering a unique depth-to-diameter ratio, Dual-Density Fat D gives new meaning to "sporting a chubby." Why? Because while experienced assholes can handle up to 18 inches in length, the average vagina bottoms out at a mere 5 inches. This makes Fat D's Heineken-keg dimensions useful to women who love a wall-to-wall stretch (as opposed to a cervix-battering ram.)
Size: Overall Length – 8 Inches, Insertable Length: 6 inches, Width: 2.75 Inches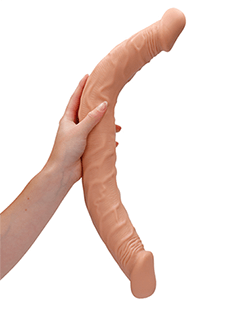 RealRock 18" Double Dong
"Twofold Terror."
Were you expecting some trite, boring line like "double your pleasure?" Well, you were absolutely correct. For DP lovers – (and we're not just referring to Dolly Parton) – this Double D is a great way to rearrange your guts. You can even use it to reboot that spaghetti scene from "Lady & The Tramp," but instead of pasta you'll be sharing 18 inches of cock. So romantic.
Size: Overall Length – 18.11 Inches, Insertable Length: 18.11 inches, Width: 2.2 Inches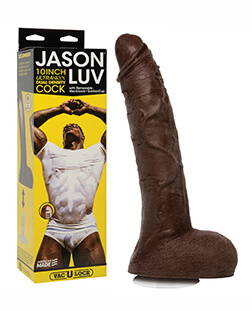 Jason Luv Ultraskyn Cock
"Luv you LONG time."
We'd like to thank Jason Luv for generously donating his organ to charity in the form of this Ultraskyn Cock. While most dildos come in standard "boyfriend" sizes, our Jason is packing 10 fat inches of pure situationship dick. Best of all, this fuckboy toy is clean, available, and won't ever tell you he's not looking for anything serious. (This could definitely be LUV.)
Size: Overall Length – 13.5 Inches, Insertable Length: 9.6 inches, Width: 3 Inches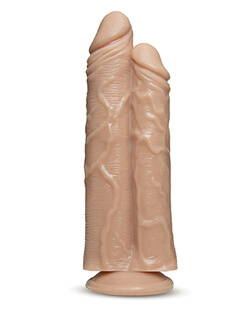 Dr. Skin Double Stuffed Monster Dong
"Behold, FRANKENDICK!"
Do you prefer sex toys to look like they were designed by David Cronenberg? This 2-Pronged Dong has ruined more holes than an auger drill bit. With its bizarre conjoined design and veiny texture, it's a potent reminder that every day we stray further from God's light. (For you unrepentant F**K Pigs, there's also a Triple-Headed Version.)
Size: Overall Length – 10.5 Inches, Insertable Length: 9.5 inches, Width: 3.25 Inches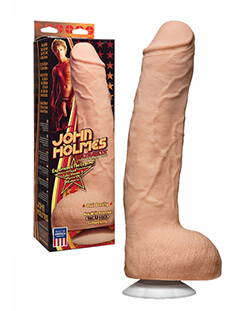 John Holmes Ultraskyn Realistic Cock
"Got WAD It Takes."
In the game of big insertions, this John Holmes Dildo is the Final Boss. A towering tribute to the man who had his penis insured for $14 million, this thing looks like an ogre's arm. Think you're ready for Johnny Wad? HA! PATHETIC MORTAL, YOU HAVE SEALED YOUR DOOM. PREPARE TO BE CRUSHED AS THE UNIVERSE WITHERS!
Size: Overall Length – 13.5 Inches, Insertable Length: 10 inches, Width: 3 Inches
"Over the top,
Ain't gonna stop, Finger licking good, You're a whole damn neighborhood."
- "Size Queen" by Sharon Needles